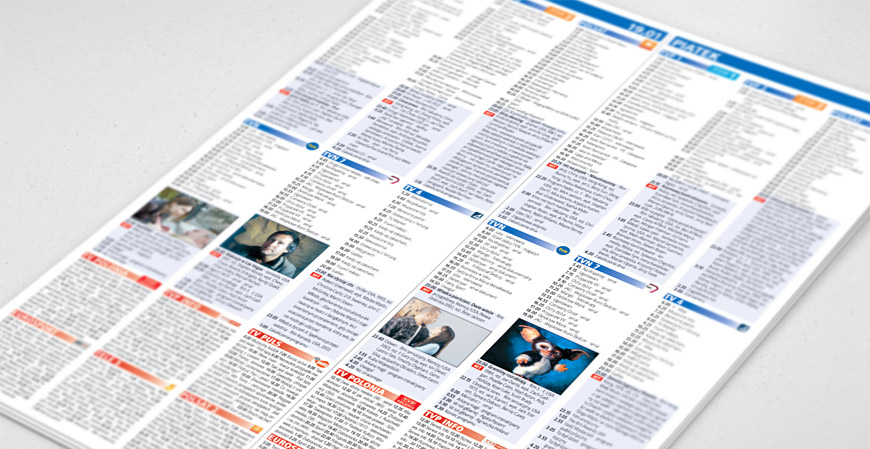 Our TV service, richly illustrated with photos, is used by the most popular dailies, weekly and biweekly magazines as well as TV guide supplements.
Created on the basis of years of experience our unique TV guide production system – tv.PRO – operates under the watchful eye of a highly qualified editorial team, allowing us to produce print-ready TV guide pages in virtually any DTP software and on any platform available. We prepare:
TV listing pages,
highlight pages (film, series, documentary, entertainment, children shows, sports),
TV related magazine pages (celebrity interviews, movie set coverage, celebrity titbits).
tv.PRO system allows for the export of TV schedule data in a variety of formats – open QuarkXpress, InDesign, PDF, EPS documents. We always adjust the format and number of updates to our Customers' needs and requirements. We offer the latest IT solutions in the field of retrieval and integration, import, editing and update of TV schedule data.
To order a TV service for press publications fill in this form.
We are proud to offer services of the highest quality, optimal implementation deadlines, flexibility and expertise. All our actions are aimed at raising our Customers' satisfaction, which in the course of over twenty years of work allowed us to gain recognition and trust of many prestigious brands.
It's simple! Become our Customer and gain access to an up-to-date TV schedule database. Our user-friendly search engine will help you find all the information you seek.
More »
We currently have over 680 Polish and international TV stations in our offer. This service is available in a traditional form (for publishers) as well as a database (for EPG systems and web portals).
See the list »